Spring into Action with These Odd Patents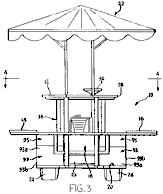 Ah, the refreshing scent of Spring flowers. Wouldnt it be lovely if you could take it everywhere you go? Well, with the Greenhouse Helmet you can! Issued in 1986, this personal biosphere consists of a sealed plastic dome, plants on tiny shelves inside, and microphone/speakers for easy communication with the rest of the world.
April showers bringstrange patents like the Rain Curtain. Designed as an alternative to umbrellas, this pocket portable device can be whipped out the second you feel a rain drop. Simply blow up the inflatable ring cap, place on top of your head, and watch as the round, spoke-like design rigidly holds a sheer shower curtain around your entire body.
Often with the warmer weather comes an increase in the insect population. Rather than repeatedly spraying repellent, you might want to try Insect Balls. Get rid of those nasty gnats by spraying an insect ball with insect attractant, stick it on top of a rod, and attach the rod to the back of a hat.
Wish you had a boat to take out on the lake, but cant afford it? Be your own boat with the Body Sail. Strap on the form-fitting floats to your head, midsection and feet. Lie on your back and slip the small sails masts into the available holes. Just be sure to keep an eye out for real boats so as to avoid serious injury.
Spring picnics have been a family favorite for decades. Take your food on the go wit he Motorized Picnic Table. Built on a 1972 Club Cadet garden tractor chassis, the machines allows families and friends to enjoy a picnic while on the road. Transport picnic goers and the table simultaneously to a desired picnic location, but be careful as it may not necessarily be street legal quite yet.
Have any other warm weather patent favorites? Share them here!