Sweet Tooth? Check Out These Chocolate-Based Patents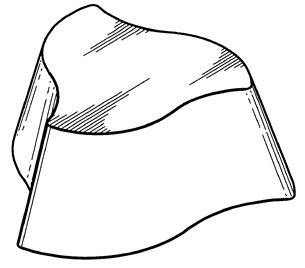 Yesterday, as we all know was Valentines Day, and whether you spent it alone, in the office, or with someone you love, you probably indulged in a bit of chocolate. Truffles, Kisses, and assorted heart-shaped boxes are just a few of the holidays best sellers. Its only appropriate, then, that we take a look at some of the lesser known chocolate inventions that have been patented throughout the years.
Chocolate Graphics International has recently received a patent for their process of communicating via chocolate. Using a computerized laser technology, the company can print any message, photo, or other image onto a chocolate surface, with chocolate. From unique invitations, business cards, even menus the people at CGI produce anywhere up to 150,000 personalized chocolate orders a day.
Further admitting the importance of chocolate in our society is New World Enterprises, Inc. who in 2006 received two patents dealing with Novel Chocolate Composition as Delivery for Nutrients and Medications. Looking into the complex chemistry of the delicious treat, NWE has researched how the synergistic compounds affect energy levels, craving, satisfaction, and several other character traits in people. They even created a dietary supplement replicating the health benefits, taste, etc. of chocolate without the sugar, fat, and other negative aspects of the candy.
Leave it to Starbucks to also capitalize on the nations favorite sweet treat. The multi-million dollar company has stretched the limitations of patent design and turned their own unique looking piece of chocolate into protected intellectual property. The Starbucks Confection Chocolate Design patent is just another step to help distinguish the brand from its competition.
Every year, the US alone consumes over $13 billion worth of chocolate. Not only is it a staple of every Valentines Day, but the excess of chocolate bunnies, eggs, Santas, and other designs has turned it into a necessity of any holiday or special occasion. The next time you pop a piece of chocolate into your mouth, you may take a moment to consider the industry and where your particular treat is coming from and who it belongs to.