Patents for Travelers…Some Strange Inventions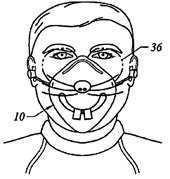 Doing a lot of traveling this holiday season? Perhaps these patents can help make the trip a bit more bearable
Airplane Moisturizer- This uniquely designed mask contains paper inserts that collect the dampness in your breath as you exhale, releasing that moisture back to you as you inhale. Make sure you pop a mint before using, and remember that it may deter the other passengers from engaging in friendly conversation with you.
Travel Washing Machine Hate that dirty laundry buildup that comes with traveling? This portable, mobile appliance mounts onto the wheel of your car and spins your clothes clean while you drive. Its a bit difficult to use, but worth it to say goodbye to public Laundromats! Simply jack up one wheel of your car, secure the straps in place, add your clothes with detergent and water, and stay at a steady speed of 25 mph. Every few miles, stop and drain the dirty water until clothes have spun dry.
Aromatic Travel Mask This all-in-one sensory deprivation mask filters out unwanted sounds, light, and smells. It can also filter out any unwanted pollens or allergens from the air. While you might look ridiculous, you will enjoy a highly filtered and comfortable flight.
Personal Transportation System Prefer to take your own mode of transportation? This two wheeler consists of a weighted passenger compartment mounted atop a trapeze cross bar aligned between stub axles for the wheels. With its center of gravity below, this pivotally mounted compartment provides attitude control and discloses reactive forces of braking.
Sun Shield for Automobiles Even though its winter, the sun is still shining in full force. A collapsible framework supports a flexible cloth, with at least three legs radially extended from the frame work. At the end of each leg is a suction cup to attach to the roof of the vehicle. The sun shield can be easily mounted above the automobile to shade it from the suns damaging rays, or it can be easily packed and folded into the trunk.
Whether youre traveling this season by plane, train, or automobile, keep these odd patents in mind. They might come in handy someday. Even if they dont, theyre good for a laugh.