Reflecting on the Last 20 Years in Patents: An Analysis in 5 Charts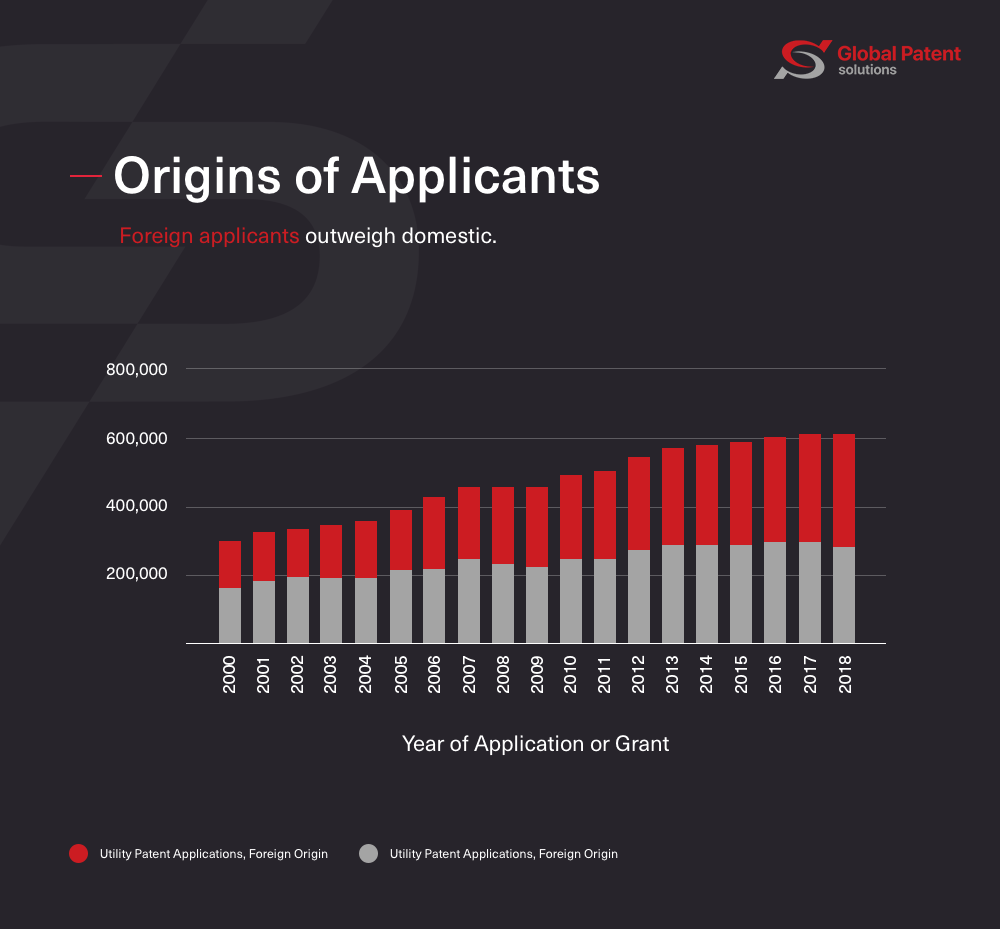 With the advent of a new decade, many of us are looking back at the last ten years to understand how things have changed and how things may continue into the future. Thanks to the USPTO, we have some fairly interesting statistics about patent filings, which can offer some clarity about the future of intellectual property protection in the country. Here's a snapshot of some trends that we've seen since 2000, and some insights to help you understand what is going on behind the changing numbers.
One brief note before we begin: Although we're reflecting back on the trends of 20 years, the most recent data available from the USPTO is from 2018, as the numbers from 2019 have not yet been reported.
Patent Applications Doubled From 2000 to 2018
Although it's been a turbulent couple of decades, innovation has grown steadily, if the of all patents filed throughout the world in 2018. How strong those Chinese patents are compared to protection from other countries is a story for a different time.
Design Patents Are Increasing
Utility patents (patents that protect an invention, process, machine, etc.) have long been the hardest form of IP protection to obtain. This is partly because they are also the most valuable, and offer the most potential for gaining huge early market shares. However, design patents have come to hold more weight over the last few decades, which is evident in the increase we see in design patent applications overall.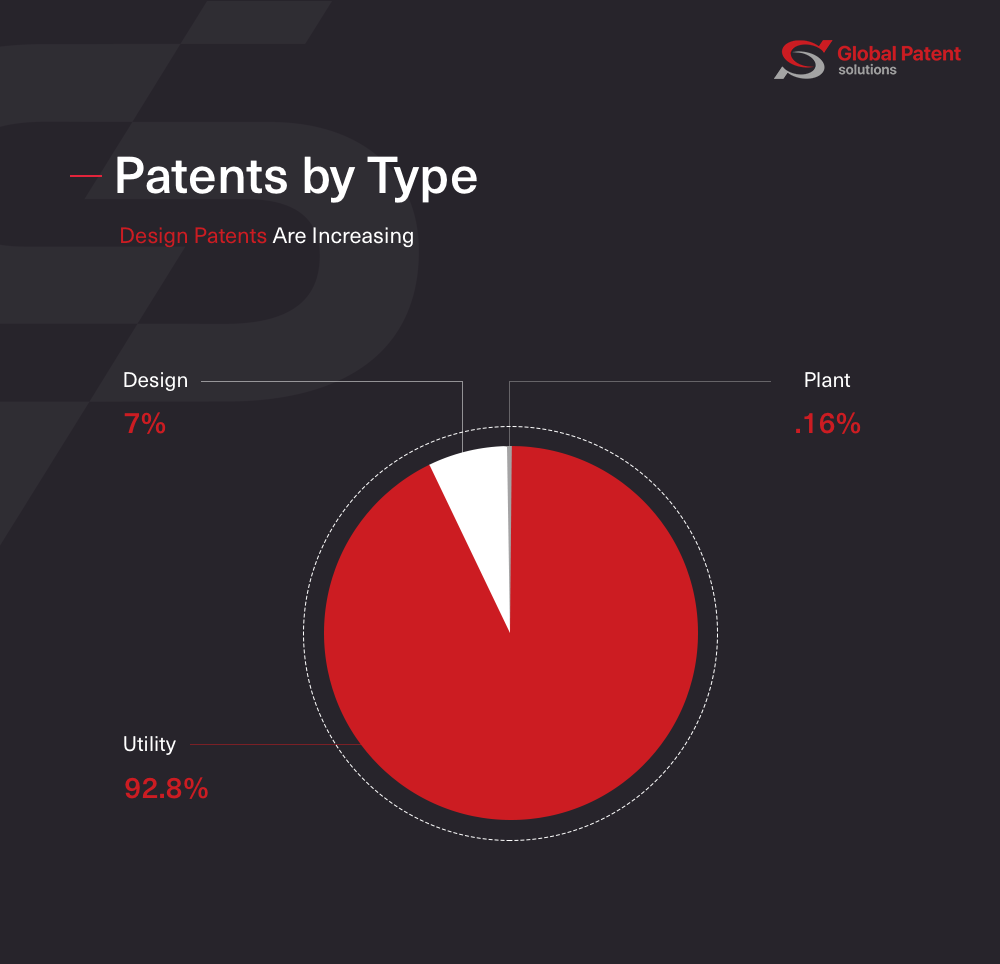 Design patents accounted for just 5.8% of patents overall in the year 2000. In 2018, design patents accounted for 7% of the share of overall patent applications. It's a small increase, we know, but it's indicative of a larger trend. In recent years, innovation titans such as Apple have led the way for a new approach to patents. In order to bypass slow utility patent processes, preserve the unique look of their products, and bolster up their legal protection in a system where utility patents are increasingly difficult to uphold, and design patents have recently become significantly stronger, many companies are adding design patents to each new product, especially when design is informed by function and therefore, this easier-to-obtain patent could protect many functional aspects of the product.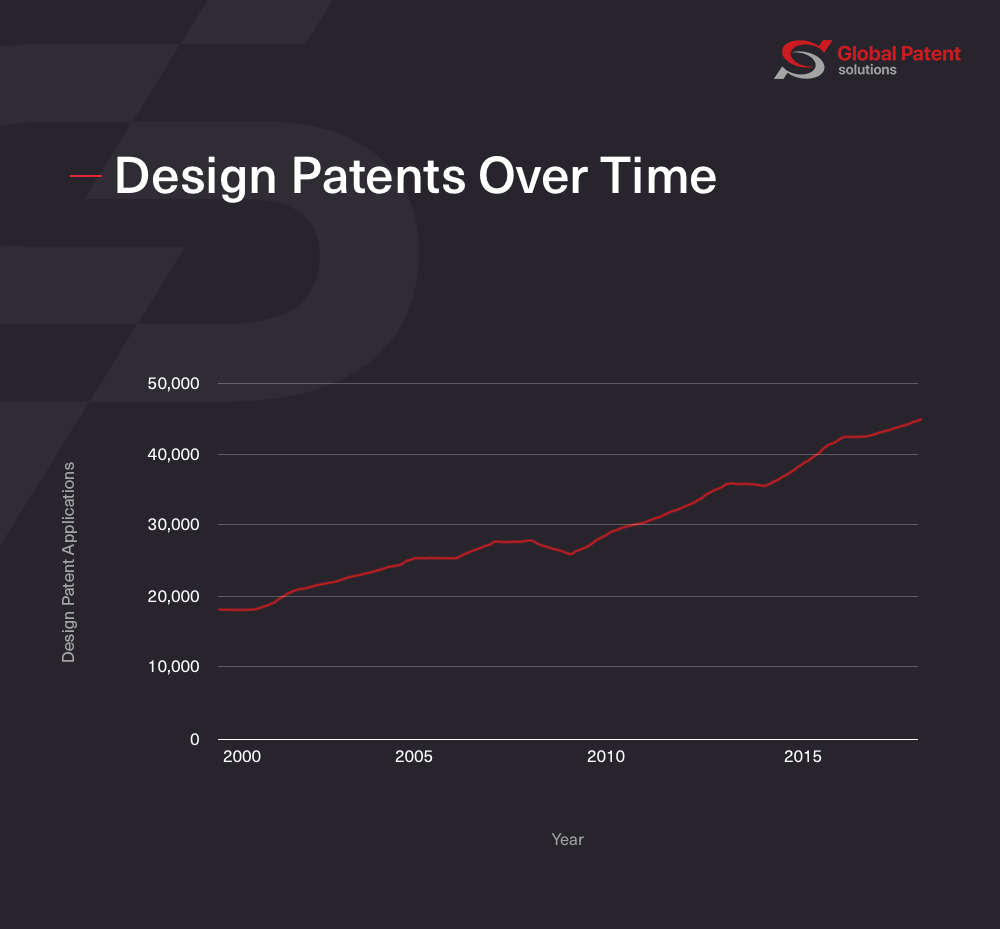 Patent Applications May Be Leveling Off
The tech boom in the 90's and 00's spurred a huge influx of patent applications, year over year. However, a few consecutive years over the last decade have seen application numbers remain static, or even decrease. In fact, you may notice in the first chart that between 2017 and 2018, the number of patent applications decreased. Until the USPTO releases the statistics for the year 2019, it's uncertain whether that trend will continue, or course-correct.
Many IP professionals project that the growth rate of patent applications will slow as increasing maintenance costs and perceived decreasing legal protection make utility patents have a lower rate of return on investment. Forward-thinking companies are decreasing the number of patents they apply for and favoring a "quality over quantity" approach that streamlines their IP portfolio. Patent search services like those offered by GPS can help you make informed decisions as you evaluate your IP portfolio and determine which avenues of IP protection will serve you best in the future.
Patents Submitted by Women Are Increasing (but Still Extremely Low)
The USPTO recently released a report spotlighting the growth of female inventors… or lack thereof, as may be the case. This graph shows the quick uptick in women submitting patent applications that took place between 1978 and 1997. Although the growth rate has leveled off a little bit since 1997, there's still a noticeable rise that could lead eventually into a greater balance between men and women in the field of innovation. However, another metric on the graph sheds a little more light on the situation. A large percentage of that growth is actually attributed to the addition of women to teams of applicants, rather than independent inventors or all-female teams.
At the same time, the potential for women to contribute more to the field of innovation is higher than ever. Numbers have shown that people with STEM degrees and working in related industries are most likely to file for patents. However, although women are occupying a larger share of those jobs, their participation in patent applications still isn't proportionate. According to the USPTO's report, "In 2015, women occupied roughly 48% of biological and life scientists but represented only about 25% of inventors on biotechnology patents and 23% of inventors on pharmaceutical patents."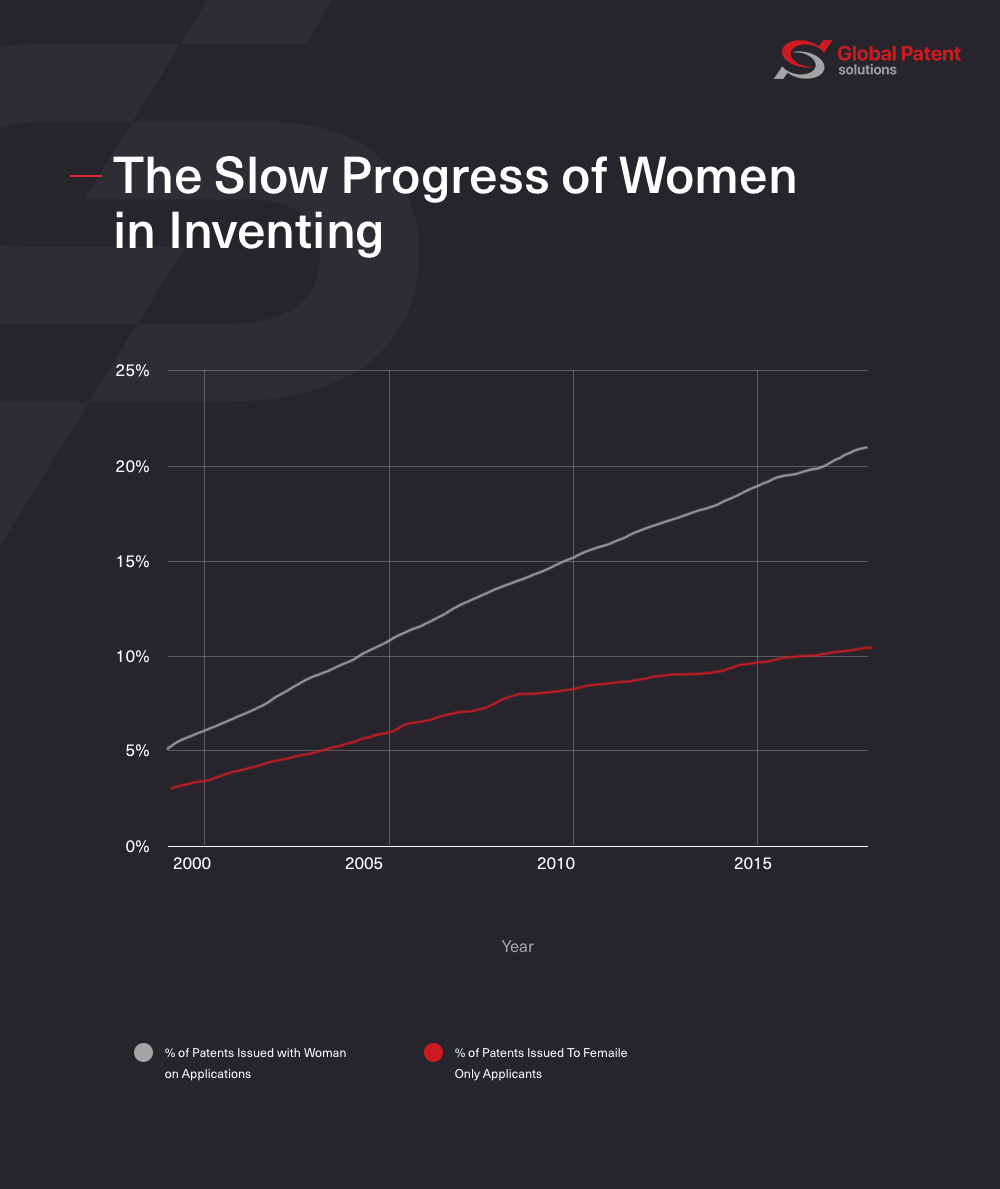 We've Come a Long Way
To close, we want to look at some numbers that go farther back than the last 20 years. Take a look at this chart that shows historic numbers from the US Patent Office. In 1790, the newborn organization issued only 3 patents. It wasn't until 1808 that the yearly number of patents issued broke 100. It wasn't until 1840 that the office even started recording the number of patent applications versus the number of patents issued in order to mark the disparate numbers caused by the backlog. Today, the USPTO is one of the busiest and most trusted patent offices in the world, providing a checkpoint and bastion of defense for innovation for the country and throughout the world.
Are you looking back at the last decade to determine what the future may hold for your IP portfolio? Global Patent Solutions offers a host of patent search services that empower businesses, investors, and inventors to get an accurate idea of the potential and profitability of their intellectual property. Contact us for help with your MA due diligence, your portfolio management, patent licensing activities, and even with research support for your RD efforts. Our comprehensive search services are employed by the USPTO itself, and our experienced advisory services can help you get a clear vision of the data produced by our proprietary search techniques. Reach out today at 877.236.8105 to get a quote for your project.