A Guide to Global Patents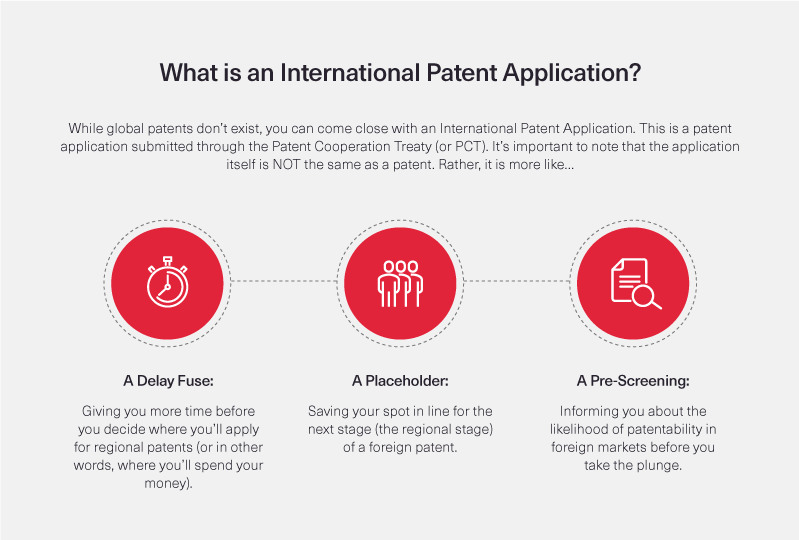 Understanding the Purpose of PCT Applications
A patent issued by the USPTO (United States Patent and Trademark Office) is valuable, and difficult to obtain. However, it will only protect your intellectual property within the US. In an increasingly global economy, a patent issued by just one country may not be enough to protect your business' growth.
The PCT, or Patent Cooperation Treaty, was designed to solve this problem. An application filed through the PCT acts as a placeholder for a patent application in each of the treaty's contracting states. It can also give you a preliminary evaluation that will help you decide which foreign patents will be most valuable for you.
An application submitted through the PCT is often referred to as an international patent application, a PCT application, or even a global patent application. Keep in mind, though, that a patent cannot be issued by the PCT. There's still no such thing as an "international patent". Whether or not a patent is granted is up to each participating country's national patent office, and determined during the "national phase" of the global patent process.
Which Countries Are Part of the PCT?
When signed in 1970, the PCT only had 18 contracting states. As of 2018, there were 152 contracting states in the Patent Cooperation Treaty, including the vast majority of developed countries around the world.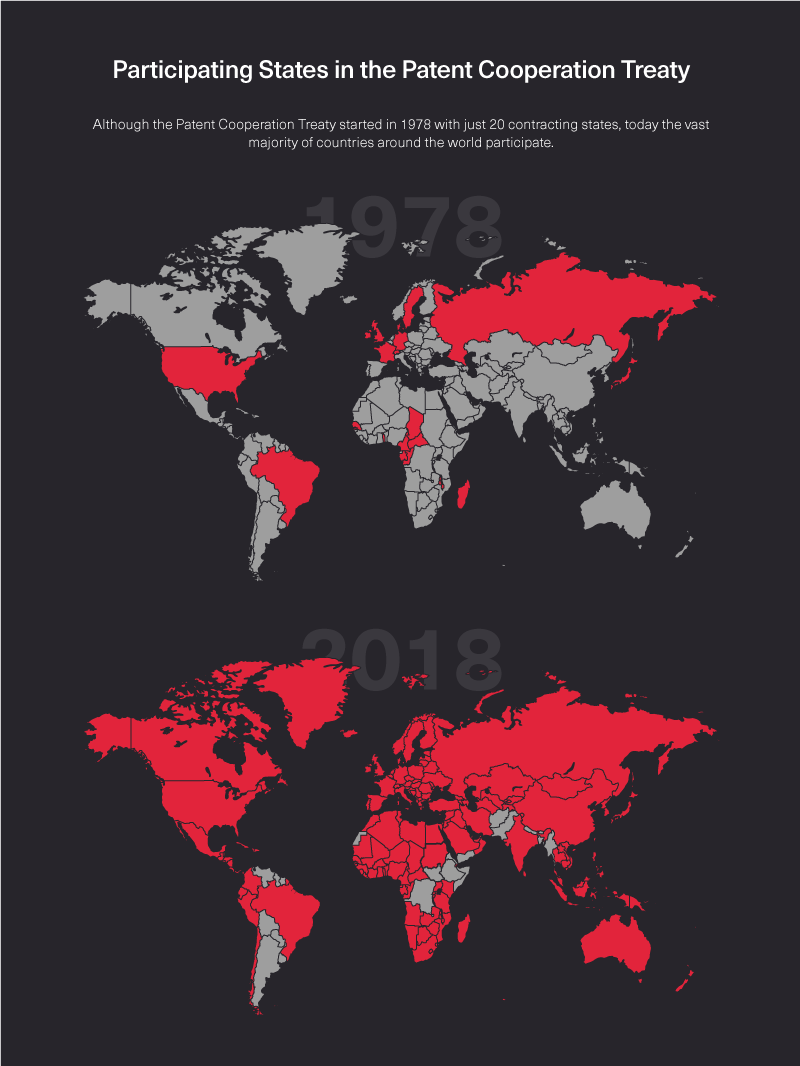 All members of the IP5 are contracting states in the PCT. The IP5 represents the 5 biggest intellectual property offices in the world, and they issue what is largely believed to be the most valuable patents that can be obtained. Unlike the PCT, each of these offices can issue patents in order to protect intellectual property within their jurisdiction.
Between these 5 offices, they handle roughly 80% of patent applications throughout the world each year, and about 95% of PCT applications. Whether or not you decide to submit an application through the PCT, you may decide to apply for one of the following foreign patents if it's consistent with your international business strategy, in order to maximize the scope of your intellectual property protection.
The IP5 includes:
the European Patent Office (EPO)

the Japan Patent Office (JPO)

the Korean Intellectual Property Office (KIPO)

the National Intellectual Property Administration of the People's Republic of China (CNIPA)

and the United States Patent and Trademark Office (USPTO)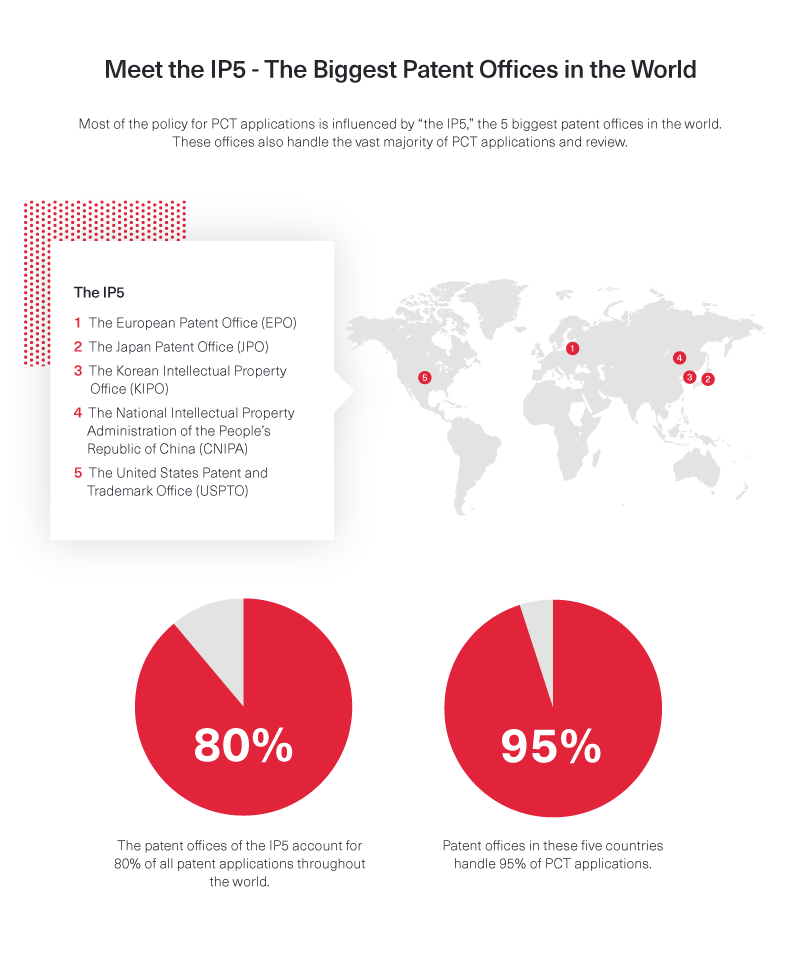 Advantages of an International Application
Simplified process: A PCT application allows you to file with just one fee, and in just one language.

Reserved priority date: The main purpose of filing for an application through the PCT is to hold your place in line. A PCT application has legal viability in each filing state, although it doesn't guarantee that your patent will be granted, or allow you to skip the filing process with the correlative patent office.

Delayed regional filing: Filing a PCT application also delays the deadline for filing in each country. This means that you have more time to explore the viability of a patent in each region, rather than having to pay the translation, filing, and prosecution fees as you apply with each patent office around the world, despite the fact that it may not ultimately be worthwhile.

Easier regional filing: Many regional patent offices have fast-track or streamlined application processes that you can be entitled to if you've already submitted a PCT application.

More informed decisions: You'll get an international patent search, and then the international searching authority (ISA) from one of the world's largest patent offices publishes an opinion on the patentability of your invention. This helps you make a more informed decision about how to proceed. You can also opt in for an international preliminary examination and written report on patentability before going through to the national/regional level.
To illustrate the benefits of a PCT application, take a look at these numbers from Procter Gamble:
After the review process of their PCT applications, they estimated that they ended up halting about 20% of their international patent applications, deciding not to file in any region. When they did decide to enter into the national/regional phase for certain patents, it was only in 70% of the states where they had originally planned to move forward. These numbers represent huge cost savings in translation, application, and consultation costs, not to mention legislative and maintenance fees.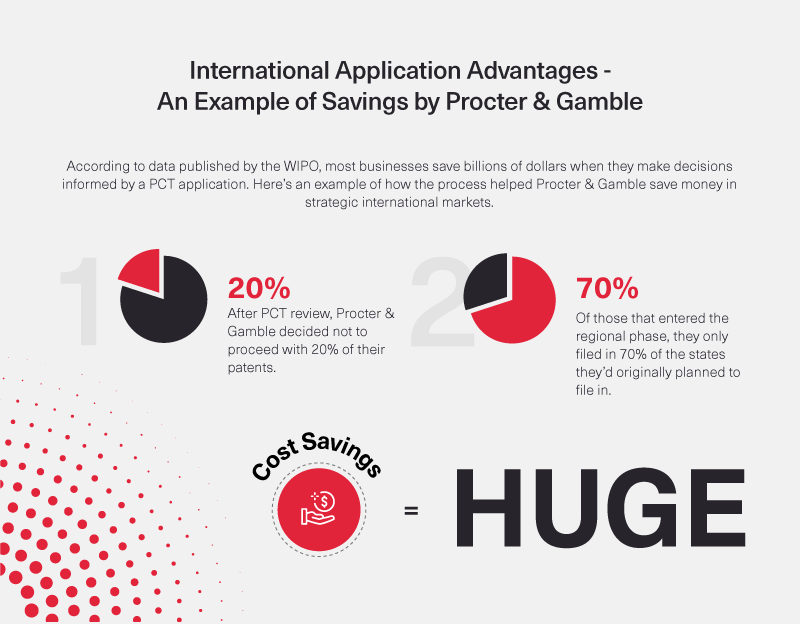 The Global Patent Process (International Phase vs. Regional Phase)
The process for an international patent application is broken into two phases: the international phase, and the national/regional phase.
International:
Submit international application with a qualified Receiving Office

ISA (International Searching Authorities) will review, conduct a patentability search, and then put together a written opinion, and pass the application to the WIPO (World Intellectual Property Organization), who then publishes it (on Patentscope).

Applicants can then request additional optional review, by asking for a supplementary international search, or an international preliminary examination. They'll get a report in response to this which will help them further refine their application before proceeding to the national/regional phase.
Regional:
Different nations and regions have different rules about how soon you must file for their individual patents after the priority date that you established through your PCT filing date, but the limit averages about 30 months.

This is when the fees come into play, including translation, local legal representation, and office fees for filing (not to mention maintenance costs down the road with both the patent office and through litigation).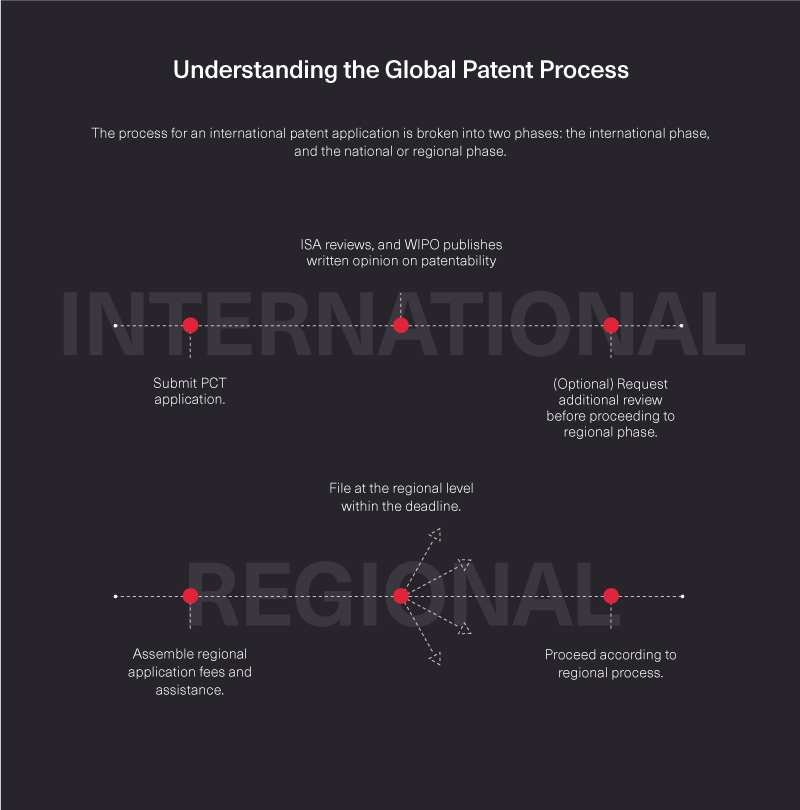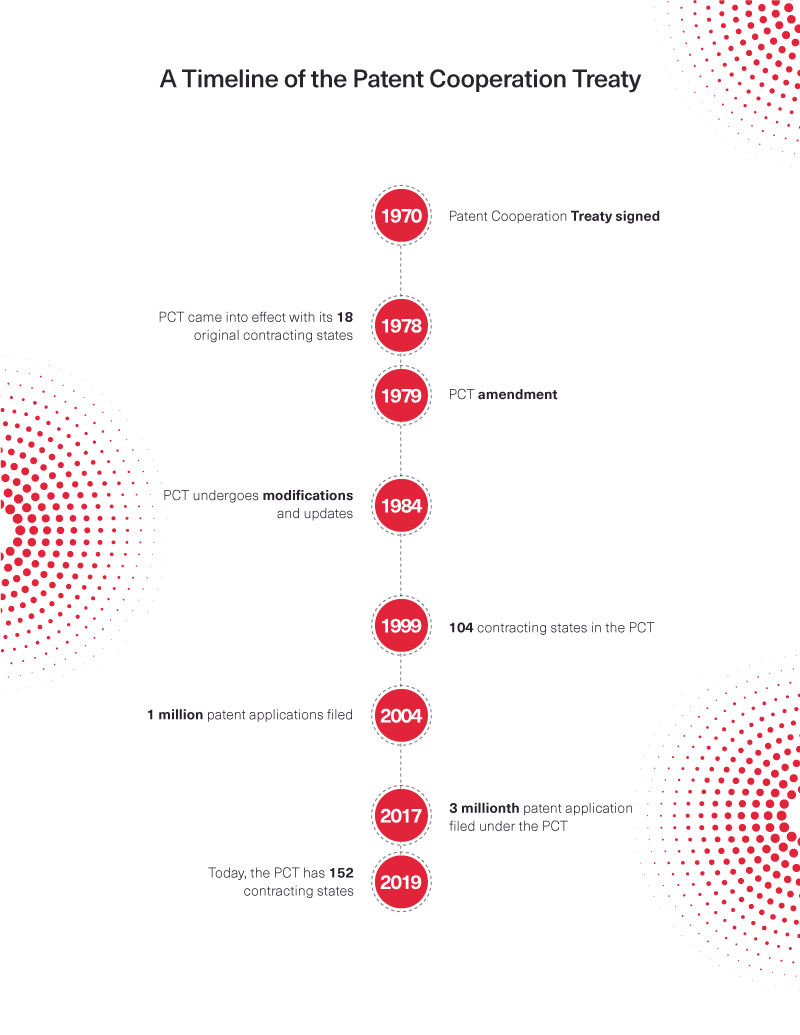 About GPS
Global Patent Solutions is a premium patent search and solutions service with extensive experience in global patent proceedings. Utilizing proprietary search methodologies and unparalleled patent search expertise, we provide the highest quality work for inventors and IP professionals around the world. We pride ourselves on fast turnaround, cost-effective service, and reliable data.
Get the information you need to make decisions that matter. Contact GPS today to learn more.
Click Below to View the Full Infographic