Automotive Industry Drives Forward with Patents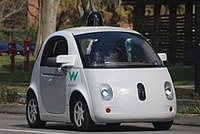 As autonomous vehicles become less a sci-fi fantasy and more a part of our everyday life, car makers are pushing patents to protect their unique designs. From car-to-car communication systems to futuristic fleets of robo-taxis, these patents are giving car tech-lovers a lot to talk about.
Jaguar Land Rover recently filed a patent for a car equipped with a weather forecasting system that would allow the vehicle to automatically adapt to changing weather conditions. Should the system sense an upcoming rain storm, for example, it might roll up the windows or close the sun roof in preparation, adjusting the wiper blades or air temperature as external conditions change.
Ford, meanwhile, has filed a patent for a vehicle with seats capable of rotating up to 180 degrees. The odd, bubble-shaped car is designed to provide a more comfortable passenger experience by allowing front passengers to turn their seats around, giving them the ability to more easily converse with back seat passengers. The car is also designed with a retractable table in the middle, also equipped with airbags.
Tesla doesn't seem to be slowing down when it comes to patents, either. The company was recently granted a patent for a battery swap system which includes a two pillar vehicle lift system and battery lift. The Electric Energy Storage System (EESS) is a welcome addition to the charging stations set up nationwide, along with the single battery swap station built in Harris Ranch, CA, and could come in handy if CEO Elon Musk can deliver on his pledge to demonstrate a fully autonomous drive from LA to New York in the coming months.
Global law firm, Squire Patton Boggs, recently noted the surge in the number of patent applications filed by automotive companies. "Some of these patents may no doubt prove to be fundamental building blocks…" says an entry from the firm on Lexology's website. "The automotive industry is the third largest research and development (RD) spender in the US…"