Arizona State Innovation: SkySong's Billion Dollar Impact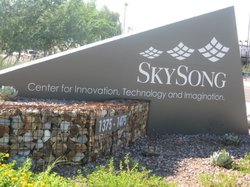 Arizona State University is keeping the spirit of innovation alive, continuing to lead the country in new and unique educational programs and opportunities for students of all levels. Since nabbing the number one spot on the U.S. News World Report's list of the most innovative schools in 2015, ASU has celebrated a record-breaking year in patents, seen a significant increase in invention disclosures and ushered in a new wave of creative student programs.
Just recently, the University was designated an Innovation and Economic Prosperity University by the Association of Public and Land-Grant Universities (APLU), for "recognition of its strong commitment to economic engagement." Through programs like ASU's Starbucks College Achievement Plan, which offers full tuition reimbursement for juniors and seniors working at any company-operated store, and the Global Freshman Academy, which allows anyone the opportunity to take college freshman level courses on their own budget and schedule, the University is leaving its mark on businesses and educators everywhere.
One of the University's key contributions to economic growth and development is the SkySong Innovation Center located in Scottsdale, responsible for the creation of 1,500 jobs and an economic output of more than $588 million. An analysis by the Greater Phoenix Economic Council projects that, in the next few decades, SkySong will generate over $32 billion in economic output, generating more than 10,000 jobs in the process.
Currently, SkySong consists of three 150,000 square foot buildings, with a fourth building nearing completion this year. By 2022, this 42-acre mixed use campus is expected to have 11 different buildings in addition to an on-site restaurant and retail area.
Global Patent Solutions is now one of 50 different companies that call SkySong home, and the number of new leases continues to grow. To learn more about this innovation hub, click here.