Attention All Shoppers: These Patents Are A Big Deal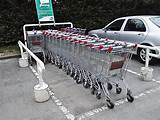 Last year, Walmart nabbed itself a patent for self-driving shopping carts, a technology that could easily revolutionize the way people shop. Forget exerting yourself trying to yank a cart from the chain. These smart-carts would come stocked with detachable motors, sensors and control circuits that would allow a customer to select a cart from a collective area using their mobile device. Ideally the carts would also come equipped with a navigational system that could help guide customers through the store, and perhaps even indicate where select items are located.
Those looking to get the best bargain on a particular item may have trouble with this next patent, however. Amazon was recently granted a patent for "Physical Store Online Shopping Control," a system linked with the store's Wi-Fi network designed to prevent customers from searching for specific content. In preventing customers from being able to connect with certain web addresses or search terms, Amazon could, in theory, also prevent them from shopping for better deals from competitors. The patent could prove especially useful in the company's recent acquisition of Whole Foods, which the tech giant announced it's purchasing for just under $14 billion.
As far as payments are concerned, Apple is looking for new and innovative ways to further promote the digital wallet and apps like Apple Pay. The company recently announced a new feature, available with iOS 11, for person-to-person transactions that would let users send and receive money via iMessage, similar to PayPal's Venmo. In the meantime, Apple and Visa are currently involved in a lawsuit related to Apple Pay, after a Massachusetts-based tech company accused the two companies of infringing on a number of its patents. Universal Secure Registry CEO Kenneth Weiss, has claimed that his patented technology related to biometric authentication and other security features are key elements of Apple Pay and that he was, in fact, "First in the space."
What shopping related patents have you heard of lately? Share with us in the comments.