Connectivity & Innovation at CES 2017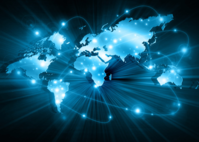 CES 2017 was held in Las Vegas January 5th-8th, and from the looks of it, there's plenty to be excited about in the coming year.
This year marked the 50th anniversary of the tradeshow, which aims to solve some of the world's most challenging problems by promoting connectivity and innovation. With more than 2.6 million square feet of exhibit space to explore, and over 3,800 participating companies (including more than 600 startups), consumers, industry leaders and techies of alike are invited to take place in the international sensation that has become CES. Here's a quick look at a few of this year's exciting exhibits:
The Faraday Future FF91 Electric Car: With driverless vehicles predicted to hit the market as soon as 2020, auto and tech companies alike are vying to get their self-driving cars on the road. One car generating a multitude of interest is the Faraday Future FF91, arguably the sleekest and most anticipated electric, autonomous car yet to hit the market. The vehicle is built on FF's Variable Platform Architecture, which uses a "singular, adaptable platform" comprised of strings of battery blocks to create a number of different vehicles, from SUVs to race cars. By altering the arrangement of battery strings, FF can easily adjust a vehicle's size, weight, shape, and even power.
Sony's E-ink Watch: An updated version of its Fashion Entertainments (FES) watch line released in Japan last year. According to global analysts at CCS Insight, the wearable tech industry is expected to reach $34 billion by 2020, but not all of it's fashionable. Sony's paper-thin watch with flexible e-ink display comes in a variety of new patterns and colors, both of which can be changed by simply tapping on the display.
LG's Hub Robot: An animated voice assistant robot similar to Amazon's Echo, but capable of so much more. Not only can this cutesy robot play music and give weather forecasts, but it could also serve as a staple in future smart homes everywhere. With facial recognition software and voice activation, LG's creations could complete a number of different tasks on command, like running the dishwasher, adjusting the thermostat or connecting to any other LG appliance.
In a recent press release, president and CEO of the Consumer Technology Association, Gary Shapiro, was quoted stating, "What an incredible way to celebrate the 50th anniversary of CES – with the largest show floor in our history showcasing the next generation of innovation that will revolutionize our world…From the latest in virtual reality, smart home, self-driving vehicles, robotics, wearables, health and fitness tech and more, CES 2017 is unveiling the future of the connected experience and what it means for consumers around the world."
To learn more about CES 2017, click here.