Growing Technology in Arizona 2012 Event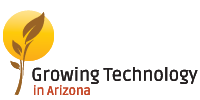 Industry leaders are coming together for the second annual Growing Technology in Arizona symposium to be held on October 4th. Presented by the Arizona Technology Council's Law Technology Committee, the event looks to celebrate and support technology growth and development throughout Arizona.
Arizona ranks as one of the fastest growing areas for technology and innovation in the country. The Arizona Technology Council, founded in 2002, aims to help technology businesses succeed statewide by hosting a series of events, educational forums and business conferences throughout the year. This organization is dedicated to making an impact through leadership, education, legislation and social action and is Arizona's only statewide organization serving the technology sector.
This year's Growing Technology in Arizona event will feature over 30 technology leaders on panels dedicated to: information technology, medical biosciences, green tech and renewable energy, research and development and more.
Join fellow industry and community leaders in learning all about sustaining and expanding the state's technology competitiveness, and contribute to interactive panel discussions regarding the opportunities and challenges facing technology firms.
Register now for this all-day event and help make an impact on the technology industry. Held at the Hilton Scottsdale Resort Villas, this event also includes lunch and an evening cocktail and networking reception.