Collegiate Inventors Competition 2011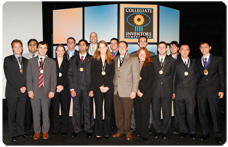 Recently, the winners of the annual Collegiate Inventors Competition were announced. Started by the non-profit organization Invent Now in 1990, the competition recognizes, rewards, and encourages students in their exploration of invention, science, technology, and more. Twelve finalists are invited to Washington D.C. each year in order to present their work to an expert panel of judges, and a graduate and an undergraduate winner is chosen.
This year, the graduate first-prize winner of $15,000 is Kyle Allison for his combination-therapy Metabolite-Mediated Elimination of Bacterial Persisters. His method for effectively killing persistent bacteria astounded judges and is a part of this years trend towards medical advancement.
Winner of the undergraduate category is a team from Yale consisting of Elizabeth Asai, Nickolas Demas and Elliot Swart. Together, they created a handheld imaging device that can help predict cancerous skin lesions. The system takes 3D, high-definition pictures of skin abnormalities and allows doctors to access the images via the web in the hopes of detecting skin cancer at its earlier stages.
Several of this years finalists submitted projects that worked towards scientific breakthroughs to benefit others with a large focus on cancer research. Third place in the graduate program, Albert Mach, was driven towards the isolation of rare cancer cells, while undergraduate finalists Patrick Cassidy, Sean Heyrman, Alexander Johnson, and Anthony Sprangers came up with a thermoreversible fluid to aid in Ablation, a common treatment of cancerous lesions.
Current director of the USPTO, David Kappos, stated that This years students are further testament to the mounting inclination of inventors at the collegiate level to get engaged in projects that benefit humanity through scientific breakthrough and have potential to translate into real world success.